Teachers Business Launch Mentorship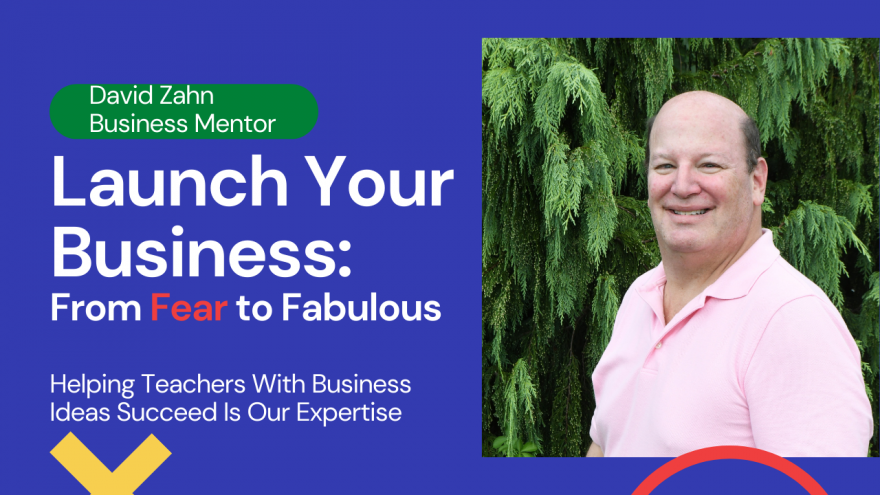 (click on photo above to see a short 7 1/2 minute video about the program)
How often have you thought to yourself:
I do not know where to start - every time I think about it, I get overwhelmed!
I hate "sales" and do not want to seem sleazy, pushy, or manipulative
I am not at all sure anyone values my product/service as much as I do
Who am I to think I can run a business? I am a Teacher - that is what I do/did.
Together we can walk the path to success and break down the steps to make it achievable for you and provide you with the side hustle, entrepreneurial venture, or profitable hobby yearning to be free within you!
WHAT YOU GET: This comprehensive mentorship program includes the following:
Three months of access to five (5) comprehensive video modules of approximately an hour apiece (total time - 5 1/2 hours)

Entrepreneurial Mindset - On Your Mark, Get Set, GO!

Marketing - Who, What, Where and Why

Sales - Pick Me, Pick Me

Business Planning/Strategy - Thoughts to Action

Finance - The Language of Business

Invitation to a once a week ZOOM call to ask any questions about the content, your business, resources, etc. (NEVER EXPIRES)
Access to a private Facebook Group for additional coaching, sharing of successes, question and answer opportunities (NEVER EXPIRES)

Worksheets, job-aids, "How-To" documents to supplement your learning and apply in your own business
NO RISK: If you complete the course and still feel you are no better off in starting your own business tan prior to the training and participation in the assigned work and group calls, we will work with you individually to assist you further with an additional three (3) hours of one-on-one coaching. If, you still are not satisfied, we offer a Money Back Guarantee if you make an honest effort to use the content
INVESTMENT: Ordinarily, this course is $850, now available for $297! A $553 savings (an enormous discount). This training is bundled with a one-hour coaching session to help you by answering your questions, providing guidance, and offering direction and mentorship to assist you.
TESTIMONIALS (Just a few of many):
I found marketing, finding the clients, and creating the environment for the sale important. The issue on contracts and what to charge extremely important to my future.
J. Storchan
Marketing Professional
David Zahn cuts through the clutter of the consulting industry, providing meaningful and practical guidance
Mike Holcomb
VP Sales, Andrew Jergens Company
Very simple, very effective
Monica Isusi
Entrepreneur
Who Is David Zahn and What is Okay Now What?
David Zahn is an Author, Adjunct Professor, Serial Entrepreneur, Keynote Speaker - but most importantly, a Coach who specializes in helping educators make the transition from the classroom to the boardroom (even if that is actually a spare bedroom in your home). He has consulted with many of the Fortune 500 Companies (Johnson & Johnson, Anheuser-Busch, Hill's Pet Nutrition, Dr Pepper, Coors, Tropicana, Red Bull, SC Johnson, Shell Oil Company, etc.), but is far more passionate about helping people launch their own businesses and succeeding as their business mentor.
Okay Now What is his business devoted to assisting those with a business idea bubbling up inside of them that could use some guidance, a helping hand, support, or accountability to allow them to achieve their goals.