Hello and Welcome to the December issue of the OkayNowWhat Newsletter!
As the calendar year comes to an end and we start to think of the resolutions we will make for 2022, it is customary for us to take a pause to reflect on what we are grateful for now. Among the traditional things that get mentioned are:
1. Health - with the pandemic slowly starting to ebb and the previous restrictions on social gathering and congregating beyond your socially distanced pod loosening, it is my sincere hope that you and your loved ones have come through this unprecedented time relatively unscathed.
2. Family - During these past months, we all have learned that when our social circles became smaller due to travel restrictions, that those closest to us living within our homes were often far more interesting than we had previously recognized. Families clung more tightly to each other and many of us learned to pay closer attention to the people under our own roofs.
3. Friends - Whether through ZOOM visits, or across backyard fences, the caring for one another was very evident these past months. We all experienced much strife; some of us personally, some of us economically, many of us politically, but all of us were bolstered by the smiles and cyber hugs of friends living through it with us.
I certainly hope that through all of the challenges, grief, sorrow, anger, frustration and more that we all shared this year that you are able to find the good that you either discovered, or renewed and that this coming year offers you everything you wish for yourself.
But I want to focus on 4 C's:
1. Craving (learn/succeed/grow)
2. Curiousness (how to, when to, with whom)
3. Commitment (willing to stay the course, continue on your path)
4. Celebrations (enjoy your victories no matter how big or small)
Click on the video image below to watch a short 2 minute video.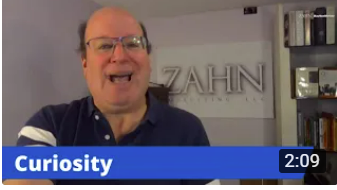 Growing up as a teen in the 70's, the Eagles were often heard on the radio stations I listened to then. One of their songs, "Already Gone" contains lyrics that are very relevant to people thinking about starting a business who are just being held back by their own self-images or thoughts.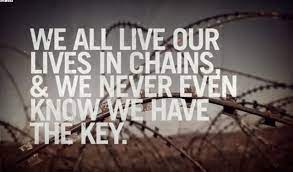 (some of the lyrics below):
Well, I know it wasn't you who held me down
Heaven knows it wasn't you who set me free
So often times it happens that we live our lives in chains
And we never even know we have the key
But me, I'm already gone
And I'm feelin' strong
I will sing this vict'ry song
Starting a business means overcoming those nagging thoughts of doubt, the comments of those who try to dissuade us out of THEIR own fears or inability, and our lack of insight into what we will confront. To start a business is courageous, but does not have to be done foolishly or without proper preparation. You can do it with the appropriate guidance and help!
A Peek Behind The Curtain
I have spoken to many audiences of over 100 and had numerous one-on-one conversations with clients over my career. Invariably, one of the questions that comes up is how did I "get into" this business (often, I suspect because they want to know if they can do it and are thinking that I am not that special! So, I will occasionally include a short insight or story about myself to give you a better perspective on just how UN-special I am and prove to you that you can do it too!)
When I was starting to think about a consulting/coaching business during my corporate career, I became very focused on having a catchy name for the business. Among the ones that I once thought were ideal (but good market research proved me wrong and saved me from using those "great" ideas) were:
1. Transition, Inc. - I even had a logo drawn up, a caterpillar that turned into a butterfly. I assumed that the idea of evolving into something beautiful and inspiring would translate. What I found out is that people did not know if I was planning to be a beautician, a mortician, or doing reassignment surgeries!
2. Ikigai Consulting - this one takes a little bit of explanation. I had done some reading about a concept called Ikigai which looks at merging our passions with our strengths and identifying a market for it. I thought it was clever and represented what I was hoping to provide. However; unless you know of this Japanese concept, it would not immediately be intuitive to anyone what was being offered. Further, I would need to educate people about the concept BEFORE they even considered working with me. Lastly, if you were to pronounce it, it would sound like, "Icky Guy" - and that surely would not be a strong inducement to want to work with me!
Let me know how you created the name of your business/what you are thinking of naming it and why. We can have some fun with this!
Facebook Group Invitation
Click on image to be taken to a short video explaining the Facebook Group. It is a private group that will allow us to work collaboratively to launch your business! Join colleagues, experts, and experienced business owners in this community who will share their successes, their challenges, their insights, and their ideas with each other.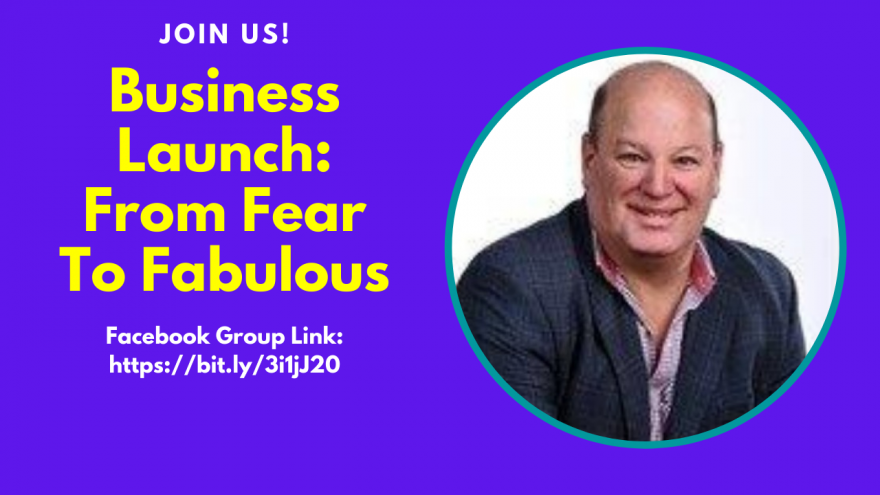 ONW (
O

KAY

N

OW

W

HAT) INSIGHTS

After over 30 years working in corporate training, sales enablement, management and having worn the hats of; corporate employee, entrepreneur, author, academic, keynote speaker, and youth sports coach and mentor, I am now adding to my roster of jobs - business coach. While I still maintain the original businesses (www.zahnconsulting.com and www.workshop360.biz), I am now adding www.okaynowwhat.biz. It is through this new offering that I will assist new entrepreneurs, those considering becoming entrepreneurs, and business professionals who want to rekindle the spark they once had for the work they do - but have lost their passion over time.

I want to be of service - it is through that effort that the greatest rewards can be found and shared with others. Having seen and experienced much in my career from many different sides of business relationships, I want to share it with others and provide the learning to help others accomplish their goals.

Together, we CAN achieve great things. Working collaboratively and meeting each challenge as it arises and overcoming it until we feel completely confident in your ability to do so without guidance. Working with your own private cheering section to lift you up when you stumble and provide you with guardrails and a metaphorical safety harness when trying new things to expand your reach and capability.

If you are ready, so am I! We can do this! Click here to get started!

If you are certain you are ready to embark on your own business launch, you can schedule a no obligation "Chat and Chew With You" conversation to explore whether my business coaching is right for you, click here
COOL RESOURCE
A challenge that many businesses, both established and those still in the formative stages have is to differentiate themselves from other businesses. That became even more challenging during the pandemic when potential prospects and customers were glued to their home computers while being quarantined. Few were venturing out, so the opportunities to meet people at a Chamber of Commerce meeting, or to strike up a conversation at a party were severely restricted. However; the chance to leverage your relationships with people you know or share something in common with (interests, associations, etc.) is still available through streaming services. One such service is Streamyard. This service allows you to post live or recorded videos to many of the social platforms where your friends, neighbors, colleagues, etc. are known to frequent (Facebook, LinkedIN, Instagram, YouTube, etc.). They offer a free service as well as an enhanced paid service. The setup is easy and there are plenty of YouTube videos and articles available to assist you so you can do it yourself. A real benefit is that your prospects can see you and feel like they know you as more than just a static ad using a free source image. You get to distinguish yourself by showing personality, demonstrating your product, sharing case studies of your services, or providing tips or hints to address the issue your prospects are encountering.
Try it. You will find a treasure trove of opportunity!
UPCOMING EVENTS
We have now launched our hybrid ONLINE training with REMOTE VIRTUAL LIVE Coaching this month. Click here for details.
CONNECT WITH ME
NEW EMAIL ADDRESS: davidzahn@okaynowwhat.biz
Facebook Group: Business Launch: From Fear To Fabulous
LinkedIn: https://www.linkedin.com/in/david-zahn-30270a4/
YouTube Channel: https://bit.ly/3sr9rvn