Have you been thinking about leaving your job and launching a business but keep getting stuck?
Going from being an employee to a business owner can be a huge transition that stops many people in their tracks and paralyzes their momentum to take the necessary steps. You might be thinking of a business idea now - but are stuck in neutral because you:
fear you don't know what you need to know to do it successfully
abhor the thought of having to sell or market your product/service/yourself
feel overwhelmed at the thought of having to change careers
doubt you have the resources to launch a business
If those thoughts have occurred to you, then you should plan on attending our free webinar next week. We will explore the hurdles that get in the way of professionals launching their own businesses and how to overcome those concerns. The details are below: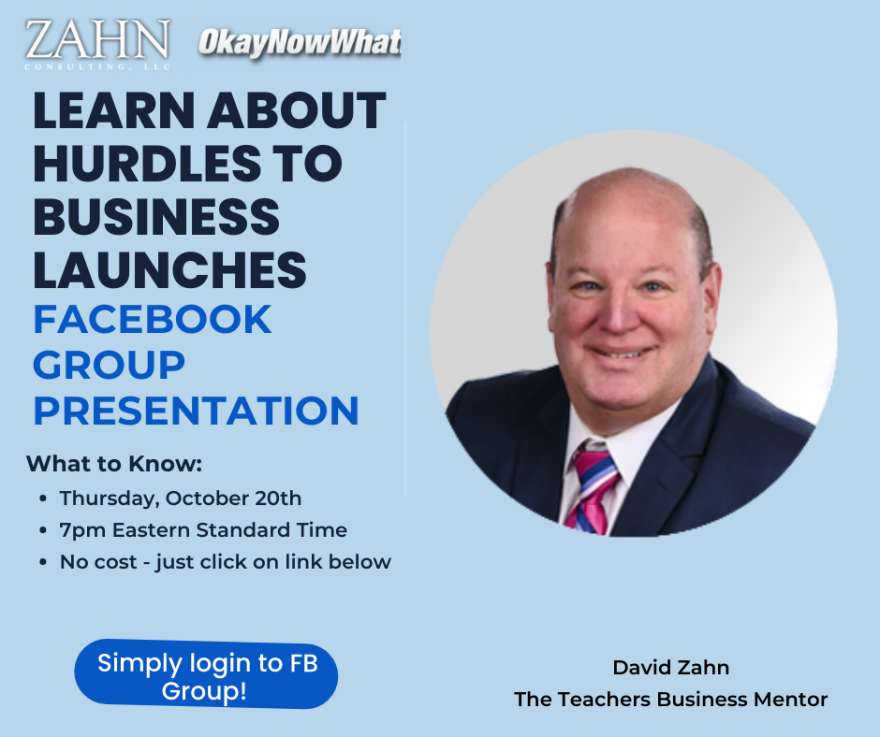 To join you just need to access one of these links:
Facebook Page: https://www.facebook.com/okaynowwhat/
Facebook Group: https://www.facebook.com/groups/176409314343243
You will be able to ask questions and get answers to your concerns in real-time. Who knows - this might even be the catalyst to get you to go from your current career to one of your passion!
CONNECT WITH ME
NEW EMAIL ADDRESS: davidzahn@okaynowwhat.biz
Facebook Group: Business Launch: From Fear To Fabulous
LinkedIn: https://www.linkedin.com/in/david-zahn-30270a4/
YouTube Channel: https://bit.ly/3sr9rvn