Facebook Group Invitation
Click on image to be taken to a short video explaining the Facebook Group. It is a private group that will allow us to work collaboratively to launch your business! Join colleagues, experts, and experienced business owners in this community who will share their successes, their challenges, their insights, and their ideas with each other.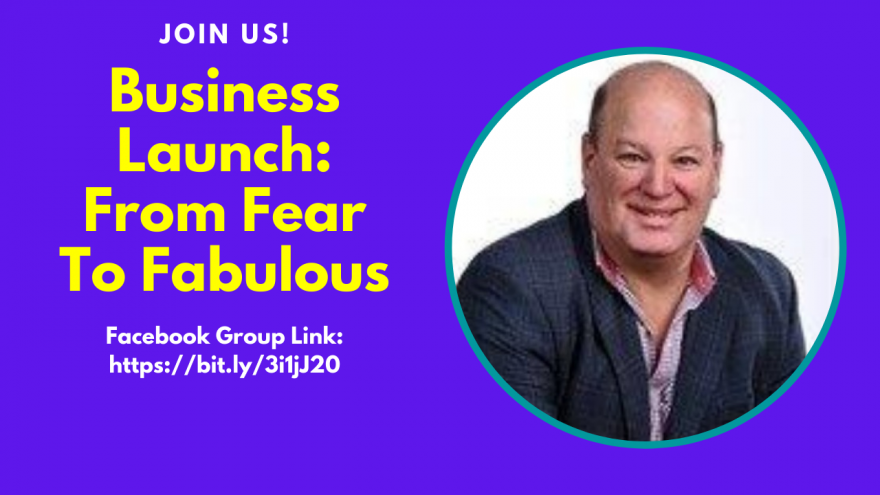 Moms, Dads, Grads, and You
This is the time of the year when flowers bloom across much of the Northern Hemisphere and the vibrant colors seem to lift our spirits. This year, perhaps more than others; as many of us are seeing a loosening of restrictions due to Covid-19 that had many of us having to trudge through the past year distanced, isolated, and sequestered from loved ones, friends, neighbors, colleagues, and each other.
This is also the time of the year when we celebrate and recognize the most important people and accomplishments of those closest to us:
Mother's Day occurs in May - we take a day to recognize the person who was our strongest advocate, provider of unconditional love, and fixer of skinned knees and broken hearts.
Father's Day occurs a month later in June - for many of us it is a time to get into the backyard and grill while sharing time with the man who modeled, mentored, and molded our perceptions of what it means to be an adult.
Graduations occur throughout May and June and are reasons to grab photos filled with smiles to memorialize the event and recognize the moment of transition.
With that in mind, isn't it time that you also look inward and appreciate your own skills, contributions, abilities and readiness to take the next steps in your own life by finally giving yourself permission to pursue starting your own business? Haven't you pondered it, thought to yourself - "someday, I will..." long enough?
If so, join us for a five-day challenge at absolutely no cost to begin to put the pieces of your future together to launch your own business. Sure, it can be daunting - but just like the Mother grew into being Mom, the Father became Dad, and the student became a graduate ready for the next challenge - so too can you make this step. I will be there alongside of you to guide you and assist!
To further that thought, I would like to remind you of the 8 Secrets to Maintaining Motivation.
1. Set goals for yourself - using the SMART acronym as a guide. Establish goals that are Specific, Measurable, Achievable, Realistic, and Time-Based.
2. Choose goals that appeal to you - you are far more likely to pursue goals that are interesting to you than you are to try to achieve goals that others are suggesting or requiring of you.
3. Make it fun - in the event that there are parts of the goal that are drudgery or uninteresting, look for ways to make it fun (or at least less painful). Challenge yourself to find a way to make a game of it (how quickly, how accurately, how creatively, etc.) or tie the least appealing aspects of it to the greater push of achieving your goal.
4. Make the goal known - by sharing the goal with others, it invites them to hold you accountable and it subtly reminds you of your commitment to it. Once it is shared, there is a greater desire to follow-through.
5. Plot your progress - take the time to establish intermediate goals and celebrate each milestone or achievement. By tracking progress, you can see the incremental gain being made to the eventual goal.
6. Accomplish the easy first - when and where possible, ease into the pursuit of the goal by completing the easier tasks first. Build some inertia and then work on the more complex or difficult tasks with the wind in your sails.
7. Pat yourself on the back - provide incentives and rewards for your progress. Whether it is a gift you "allow" yourself to purchase or any other meaningful reward or way of self-encouragement to keep moving ahead, use the element of rewarding yourself to stay on track.
8. Don't go it alone - Having a network surrounding, encouraging, sharing, and holding you accountable will be motivating by itself. Left to our own individual pursuits, we can occasionally become our worst enemies and allow self-doubt to creep into our thoughts.
Work to keep your motivation up and your goals will be that much closer to being achieved!
ONW (
O

KAY

N

OW

W

HAT) INSIGHTS

After over 30 years working in corporate training, sales enablement, management and having worn the hats of; corporate employee, entrepreneur, author, academic, keynote speaker, and youth sports coach and mentor, I am now adding to my roster of jobs - business coach. While I still maintain the original businesses (www.zahnconsulting.com and www.workshop360.biz), I am now adding www.okaynowwhat.biz. It is through this new offering that I will assist new entrepreneurs, those considering becoming entrepreneurs, and business professionals who want to rekindle the spark they once had for the work they do - but have lost their passion over time.

I want to be of service - it is through that effort that the greatest rewards can be found and shared with others. Having seen and experienced much in my career from many different sides of business relationships, I want to share it with others and provide the learning to help others accomplish their goals.

Together, we CAN achieve great things. Working collaboratively and meeting each challenge as it arises and overcoming it until we feel completely confident in your ability to do so without guidance. Working with your own private cheering section to lift you up when you stumble and provide you with guardrails and a metaphorical safety harness when trying new things to expand your reach and capability.

If you are ready, so am I! We can do this!

To register for the five-day challenge, please click on this link. Or, if you are certain you are ready to embark on your own business launch, you can schedule a no obligation "Chat and Chew With You" conversation to explore whether my business coaching is right for you, click here
COOL RESOURCE
If you are looking for a wonderful way of determining where to focus your entrepreneurial efforts, but are just stuck in overwhelm and uncertain of where to begin, I would like to point you to an article I wrote not too long ago that explores the concept of, "Ikigai." It is a fast read and led to the naming of this coaching offer's website https://blog.ctnews.com/zahn/2020/01/02/ok-now-what/
UPCOMING EVENTS
You will have an opportunity to go from, "Fear to Fabulous" in our upcoming Five-Day Challenge. We will provide you with the insight you will need to determine if being a business owner is right for you. Click here to register for the June 28th through July 2nd Five-Day Challenge.
I also welcome you to get a "taste test" of the kind of coaching I do by registering for Eprenz connect sessions https://eprenz.com/. I often am asked to participate in those sessions as a facilitator and mentor.
CONNECT WITH ME
NEW EMAIL ADDRESS: davidzahn@okaynowwhat.biz (many of you were having trouble sending messages to me at the old email address. SPAM Filters were causing bouncebacks. We have switched hosting companies and changed the email address)
Facebook Group: Business Launch: From Fear To Fabulous
LinkedIn: https://www.linkedin.com/in/david-zahn-30270a4/